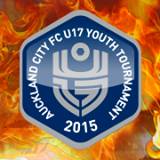 For the third time our U17 Girls headed to the ACFC Youth Tournament.
The team was coached by Michael Gibbs (Dir. Women's Football) with management assistance from Terry Ross and Martin Burnside.
The team was lead by captain Aimee Sanson and she was joined by Katie Barrott, Jemma Browne, Rebecca Williams, Rebecca Burnside, Olivia Ryan, Olivia Ross, Tayla Eveleigh, Kaitlin Clark, Maddie Kruger, Radha McGlashan, Emma Lavery, Ella Vincent-Hyde, Jacinta Bowden and Alysa Darby.
On Friday 3 pool games saw the team go down narrowly to Cashmere, outplay Glenfield in a 0-0 draw and then fall to Western Springs as injuries took their toll.
Saturday saw the girls hold fancied Lynn Avon to a draw, then succumb to eventual champions, Three Kings, in a game where they held their own against the odds (just the bare 11 fit and able by this stage).
Sunday in sudden-death play saw the girls go down 0-1 to Papatoetoe. By no means at any time were the girls out of their depth all weekend – but unfortunately the injury gods were not kind to them and they couldn't put the ball in the old onion bag enough to get the results some of their efforts might've deserved.