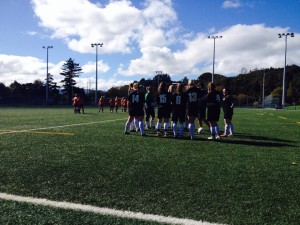 Congratulations to Waterside Karori, winners of the inaugural Women's U20 Club Championship. Unbeaten through the weekend, Karori took out a tight final over Stop Out by the one goal. Stop Out upset Papatoetoe earlier in the morning to make the final, a cracking game of football ended 1-1 before the local girls held their nerve in a penalty shoot out.
Saturday:
9:00am         Stop Out 1 v 0 Upper Hutt, Papatoetoe 0 v 0 East Coast Bays
11:00am       East Coast Bays 0 v 0 Stop out, Upper Hutt 0 v 1 Waterside Karori
1:00pm        Waterside Karori 3 v 0 Stop Out, Upper Hutt 1 v 4 Papatoetoe
3:15pm         Papatoetoe 4 v 0 Stop Out, East Coast Bays 1 v 4 Waterside Karori
5:30pm        East Coast Bays 0 v 2 Upper Hutt, Papatoetoe 1 v 1 Waterside Karori
Sunday:
10:30am         Upper Hutt 1 v 2 East Coast Bays
9:30am         Papatoetoe 1 v 1 Stop Out (2-4 penalty shoot-out)
12:00pm       Championship Final Waterside Karori 1 v 0 Stop Out
Tournament MVP: Anna Leat (East Coast Bays)
Tournament Golden Boot: Mikaela Boxall (Waterside Karori)
Join me in congratulating the following players who represented the club in our first outing as an U20 team; Madison Bibby (captain), Jessie Fussell, Danielle Duggan, Jaime Milne, Tayla Eveleigh, Aimee Sanson, Christine Hosie, Adele Lonergan, Alysa Darby, Georgia Izzett, Lydia Hunwick, Olivia Browne, Olivia Ross, Marielle Cheyne, Georgia Crawford, Cathy Fussell, Rebecca Burnside and Hannah Schenkel with three development players also on board for the weekend. They were; Maddie Kruger, Murphy Lee-Fairbrother and Hannah Mclaughlan Smith.